We Recycle!
Plastic recycling
Glass recycling
Shower meters always used on our showers to conserve water
"Green" for 8 years
No Pesticides - but don't worry, the salty air keeps the mosquitoes away!
Please come and stay with us at our small, family owned and operated, eco-friendly campground!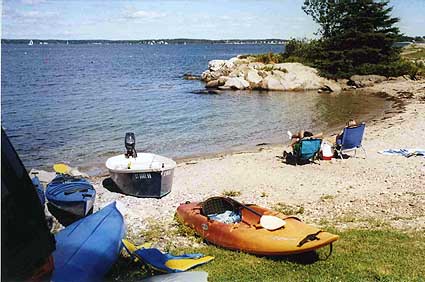 Unbeatable Maine camping: The peace and serenity of Southport Island, and its proximity to the myriad year-round attractions and activities of the Boothbay Harbor Region, make Gray Homestead the ultimate family vacation destination:
Scenic and relaxing family-run oceanfront Maine camping and lodging
Secluded Maine island paradise but only minutes from downtown Boothbay Harbor
Seasonal campsites
40 RV sites
Oceanfront cottages and condos
Private beach
Kayakers' paradise
Spectacular ocean views
Lobsters to cook at sites, or cooked for you
Entire heritage- and culture-rich Midcoast Maine area within an hour's drive
TENTING: Sorry, but after the 2016 season we will no longer have tenting sites available.
Wouldn't you like to have a summer home like this by the ocean in beautiful, cool, quiet coastal Maine?
If so, just put your camper on one of our Seasonal Sites, then kick back and relax!
Features:
Long season: May 15 to Columbus Day
Reasonable rates starting at just $3900/season
Ocean beach with bathhouse
Electric (30A or 50A), water, sewer utilities
Firewood and ice
Laundry
Free winter storage of your camper
Call us now at 207-633-4612 for full information on how to get started on your new summer seaside home!